The term 'nutraceutical' is adapted from 'nutrient' and 'pharmaceutical' in 1989 by Stephen De Felice. It refers to foods that can provide health benefits to prevent or treat certain diseases in addition to meeting basic nutritional needs.
In recent years, nutraceuticals are witnessing more growth than what is predicted in accordance with increased consumer demand. Let's have a look at the chart below to find out the top 10 popular health categories in nutraceuticals.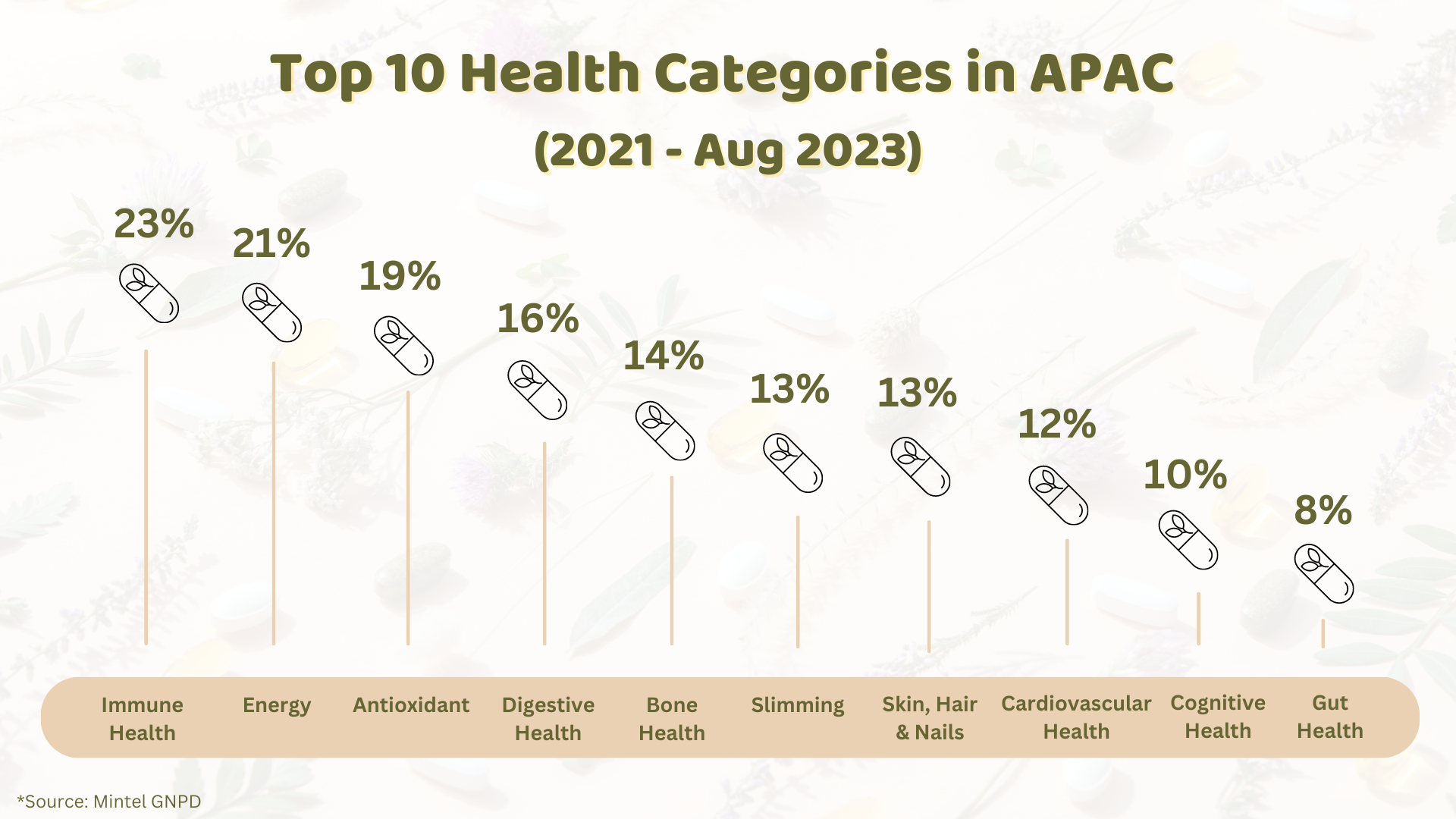 Immune health has always been consumers' top priority especially after the pandemic. They have heightened interest in supplements with immune health claim as a preventive measure to ward off any potential viral infections including covid-19, influenza and etc. Other than that, gut health is also noteworthy to mention as researchers found that it is highly associated with immune health. A good gut health is equivalent to a strong immunity.
The next in line after immune health is energy. Undeniably, adults these days tend to experience burnout easily due to busy schedule and work stress, leading to lethargy. This explains the high demand of energy-boosting supplements among the time-pressed consumers.
Albeit not being at the top of the list, slimming is definitely a popular health trend that will have an all-time demand, especially from the ladies. In other words, slimming will never 'go out of trend'. What's growing is actually the revolution of core ingredients in slimming products – more natural, proven effective and no side effects.
All in all, it is indeed paramount for brand owners to partner with the right service provider to explore trending ingredients to revamp the formulation in existing product range or to develop a new product line in order to stay ahead in the competitive market.
Interested to explore the next trending ingredient and concept?
Contact us to find out more!